Our range of plant-based food ingredients 🍃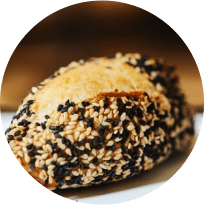 SESAME SEEDS
Sesame is one of the oldest known to man with many nutritional benefits. Rich in anti oxidants and a good source of plant protein.

Sesame can help boost the immune system, lower blood pressure. Sesame is a good source of vitamin B, calcium, magnesium, manganese, and zinc.

Sesame seeds are easy to incorporate into your diet. Commonly used for salad, stir fry, hummus, bread and muffins, granola bars, and even yogurt!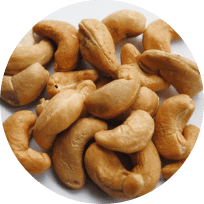 CASHEW NUTS
The cashew tree has a rather irregular trunk. Hanging from the branches are large juicy apples at the bottom of which are attached the cashew nut.
Cashew nuts are healthy for your heart and consumption on a regular limited basis could help prevent heart disease.
Cashews contain an anti-oxidant pigment called zea which helps protect the eyes from UV rays.
The shells are one of the most abundant forms of tropical biomass waste which can be used for energy generation.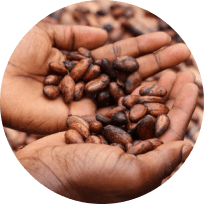 COCOA BEANS
Everyone loves the taste of chocolate, but not enough people are aware of its potential health benefits.

Cocoa contains antioxidant polyphenols, whose consumption can improve heart and blood vessel health, protect the brain, reduce fatigue and improve skin health among others...

Cocoa can be processed into many forms such as chocolate powder, bars, grains for cereal and even cocoa butter for cosmetic products.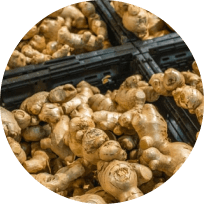 GINGER
According to heath-line Ginger can treat many forms of nausea, muscle pain, joint pain, stiffness, and even help fight infections.
The anti-cancer properties found in ginger are attributed to 6-gingerol, a substance that is found in large amounts of raw ginger.
Purchase sustainable & ethically sourced ginger for either business or personal use directly from our platform!
Food Traceability Technology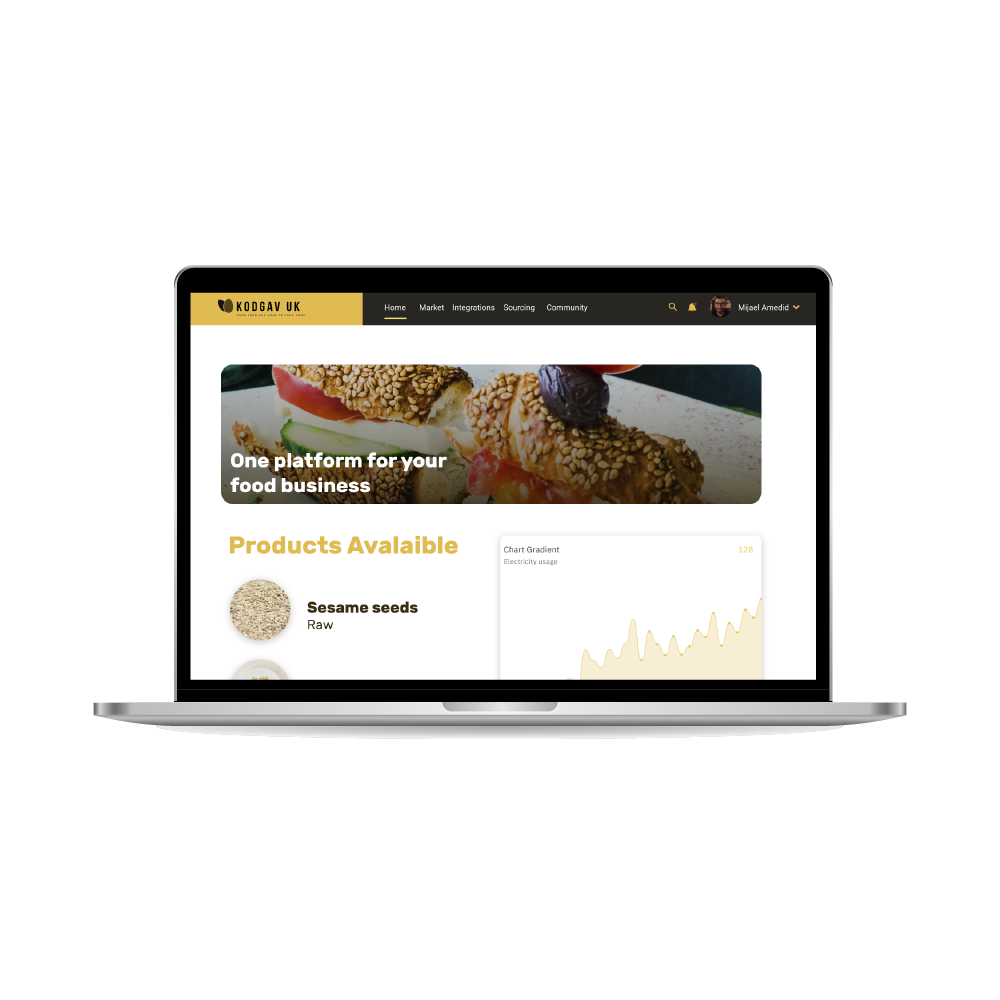 DIGITAL SOURCING HUB
Our sourcing hub makes it attainable for every individual and business, whether larger or small, to purchase sustainable ingredients from an international supply chain without dealing with the nuisance associated with trading across borders.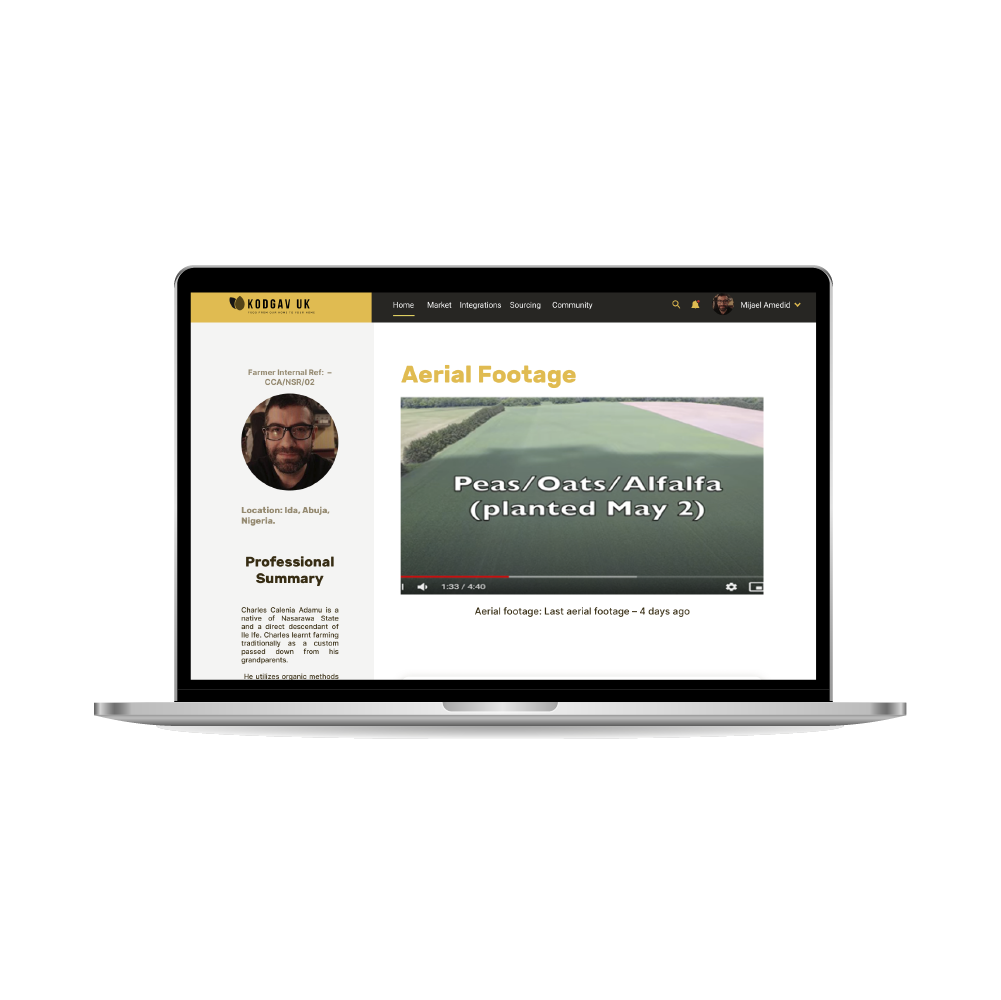 VIRTUAL TOUR X
Get a feel of the supply chain in a way that's never been done! Take a virtual dive to explore the origin of your crops, explore the origin of your crops, and meet the local farmers in a safe virtual environment.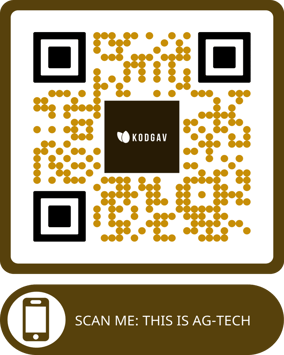 SMART FOOD LABELS
An enterprise-only service enabling retail companies to empower their customers with access to smart-data such as traceability information at the fingertips of customers of the product including soil information accessible by scanning a QR code on your custom packaging.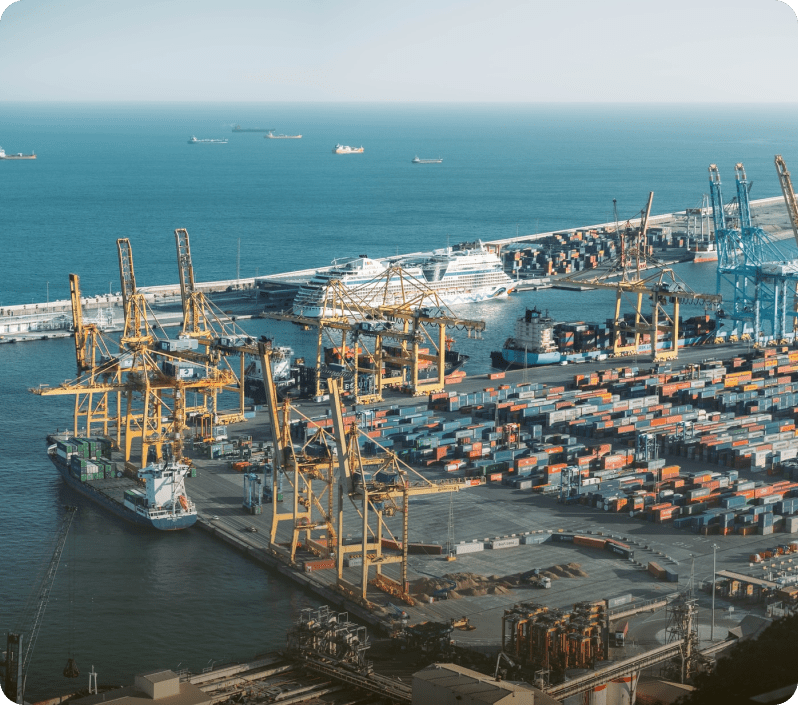 Business to Business (B2B)
We are experts at fulfilling wholesale and international suppliers for businesses. executing every contract with speed, efficiency, and integrity
We serve the food, beauty & cosmetics, pharmaceutical, livestock, and wholesale industry in Europe & North America.
We ship from our distribution hub in the UK to destinations around the UK and Europe. Depending on the volume of orders, we can cater to same-day and next-day delivery around.
Benefits of our Enterprise solution:
Complete access to our smart database providing end-end traceability information.

Optional smart food label access for retail companies.

Option to create credit account at no additional expense giving you exclusive payment terms i.e net 90 days.
Business to Consumer (B2C)- Retail
Our retail service is tailored to Individuals buying in smaller quantities not intended for business use.
Our platform is a hero to vegans, vegetarians, athletes, coaches, healthy-eaters, and everyday people wanting easy access to ethically sourced plant-based ingredients
We ship from our distribution hub in the UK to destinations around the UK and Europe. We provide next-day delivery around the UK and 3-5 working days around Europe for non-business users.
Benefits of our B2C solution:


Import from an international supply chain without having to deal with the chaotic process of trading across borders.

Premium quality ingredients available at affordable prices with buy now pay later payment options.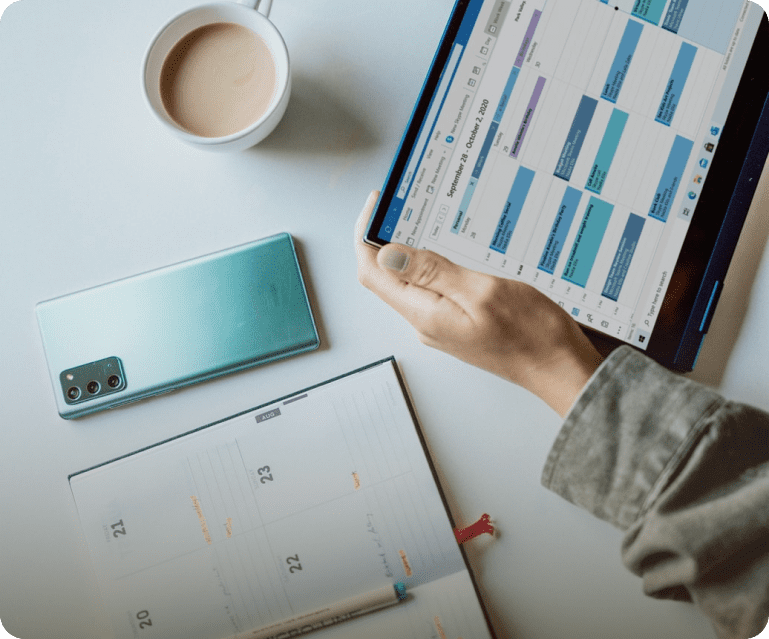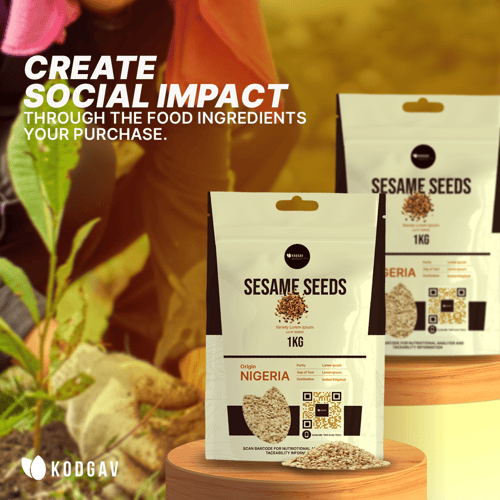 Product Traceability
Only available to our enterprise customers, our smart labels can be extended to your own supply chain with your unique barcode. Once your unique smart label has been designed, this can be reprinted on your company's custom packaging.
Visualize the entire supply chain history of your commodities from when it was planted to when it arrives at your doorstep. Ultimate transparency is accessible by scanning our smart labels or through your dashboard.
Benefits of Smart Food Labels:


Unique barcode & label design for retailers.

Empower your retail customers with smart data, accessible by scanning a food label showing complete traceability & soil information.


Minimize food fraud and maximize supply chain transparency.
We understand the importance of transparency, corporate social responsibility, and sustainable standards. We enforce these values throughout our Agro-Food chain - from sourcing to deliver
With accurate data record management we assure forward and backward traceability in all our products - From farm to fork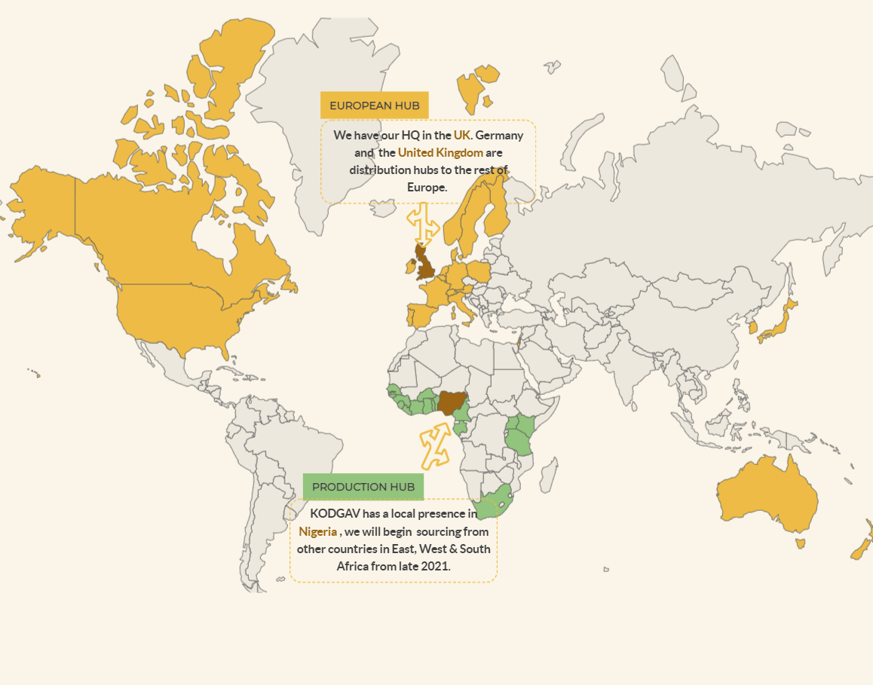 Smooth Cross-Border Contractual Process
Our Company has a vast network of professionals highly trained in international trade, export sales, management, safety, & customer service. We strive to offer every client a smooth hassle-free cross border contractual and purchasing experience.

With multi-lingual Foreign Trade Representatives Across North America, Europe, and Asia we aim to eliminate language barriers and in-efficiency for every client.
Quality Assurance & Traceability
We Assure Traceability in all our products. Our dedicated Compliance & Safety Personnel ensure conformity with legal requirements and international Food Safety Management Standards.


With multi-lingual Foreign Trade Representatives Across North America, Europe, and Asia we aim to eliminate language barriers and in-efficiency for every client.
The Future of the African Agricultural Supply Chain
KODGAV is the future of sourcing food ingredients directly sourced from Africa, here's what makes our supply chain unique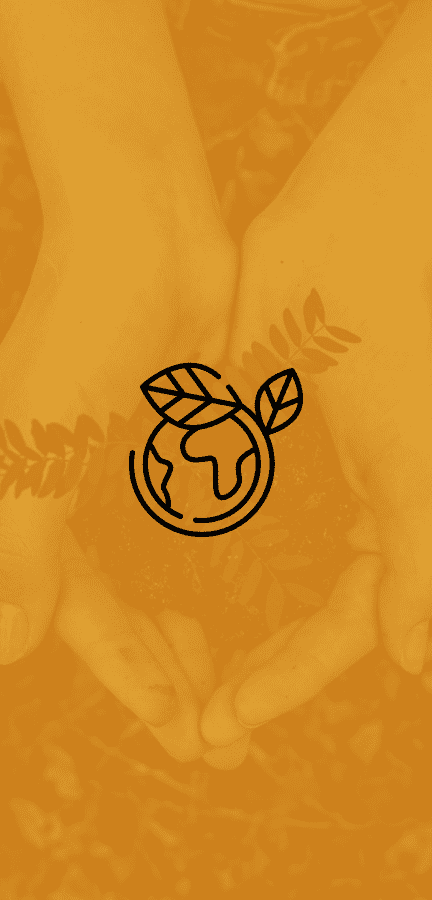 SUSTAINABLE
We take extra measures to make sure our production and supply chain is completely sustainable.
We ensure sustainable measures improving social conditions, and food safety management.

We go the extra mile to ensure African farmers are truly empowered with financial and digital resources to improve their standard of living. We are not another massive corporation that rips farmers off and writes hogwash on their annual reports, we mean business!
Check out some feedback from our ecosystem.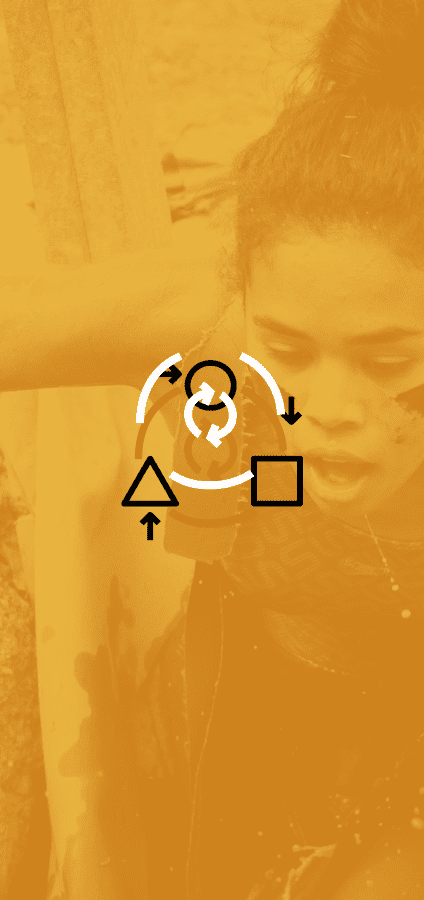 EXPERTS IN OUR NICHE
We pride ourselves as the best at what we do - streamlining access to food products & ingredients from the African supply chain.

Unlike most companies, we do not believe supply chain expertise is a one size fits all solution. We are the best in our niche: Supplying plant-based and vegan ingredients of African origin.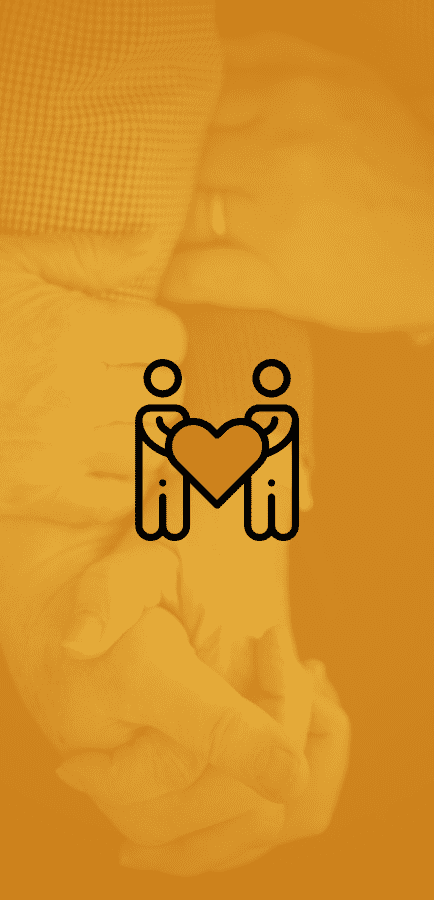 WE CARE
Besides solving problems the food industry experience when sourcing from Africa, KODGAV has a social impact mission that's just as important to us!

More than a business, we founded KODGAV to operate a business model that generates profit while also creating significant social impact.

We are proud to say our supply chain encourages financial inclusion for underrepresented women and youth; we're taking active steps to turn youth interest towards sustainable agriculture while providing upskilling opportunities in the regions we operate.
One platform for sourcing sustainable plant-based ingredients 🍃